Please join us for the next AIA Local Society, Riverside and Inland Southern California, event!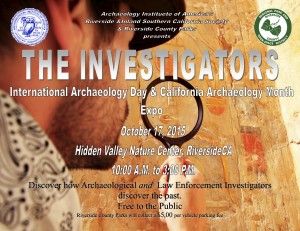 THE INVESTIGATORS
International Archaeology Day & California Archaeology Month Expo
October 17, 2015
10:00am – 3:00pm
Hidden Valley Nature Center
11401 Arlington Ave.
Riverside, CA
Discover how archaeological and law enforcement investigators discover the past!
Free to the public. Riverside County Parks will collect a $5 parking fee
For a full schedule of recent and upcoming Local Society events, please click on our 'News & Events' tab.