Please join us for our next lecture: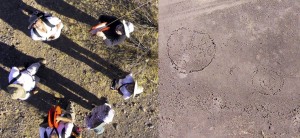 A History of Aerial Photography in Archaeology and Current Methods for Documenting Cultural Resources in the Southwest
Koral Ahmet, Southern California Edison
Sunday, June 1, 2pm, Center for Near Eastern Archaeology, La Sierra University (Please note new date)
Koral Ahmet (MPhil, RPA) will present will a brief history of the use of aerial photography in archaeology followed by a look at some of its applications on recent projects, especially in the documentation of prehistoric and historic archaeological resources in the desert region of the Southwest. He will also demonstrate the benefits of using aerial photography for public outreach programs as part of consultation with Native American tribal groups.
Mr. Ahmet is currently an environmental manager and former archaeologist with Southern California Edison (SCE). He uses aerial photography to document cultural resources on some of SCE's larger capital projects. Mr. Ahmet has over 15 years of experience in cultural resources management and has been using low elevation aerial photography for over ten years on cultural resources projects in the United States. He was first introduced to kite aerial photography at the University of Manchester in 1989 where he helped take aerial photographs of Roman structural remains in Scotland, and later the ancient city of Ptolemais in Libya. Since 2000 he has built several kite and balloon aerial photography systems that he has used to record archaeological sites in California and Arizona that have been integrated into GIS.
For a full schedule of recent Local Society events, please click on our 'News & Events' tab.