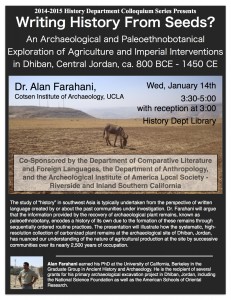 Please join us for the next AIA Local Society, Riverside and Inland Southern California, event!
The AIA Local Society is proud to co-sponsor Dr. Alan Farahani's lecture on "Writing History from Seeds? An Archaeological and Paleoethnobotanical Exploration of Agriculture and Imperial Interventions in Dhiban, Central Jordan, ca. 800 BCE-1450 CE".
The lecture will take place on Wednesday, January 14, 2015, 3-5pm in HMNSS 1303 (History Department Library) on the UCR campus. Paid parking is available in Lot 1.
This event is free of charge and open to the public.
For a full schedule of recent and upcoming Local Society events, please click on our 'News & Events' tab.