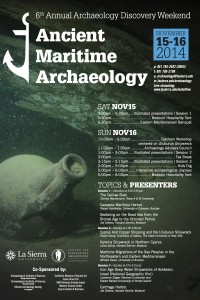 Please join the AIA Local Society, Riverside and Inland Southern California, at the Sixth Annual Archaeology Discovery Weekend at La Sierra University, November 15-16, 2014!
The AIA Local Society is proud to co-sponsor this event and welcomes all society members and friends to the rich program of events on the topic of 'Ancient Maritime Archaeology'. The lecture program is free of charge and open to the public. For more informations, please see http://lasierra.edu/cnea/discovery-weekend/
For a full schedule of recent and upcoming Local Society events, please click on our 'News & Events' tab.